Tannie Maria's Recipe for Murder – Don't Try it at Home! (Plus: Podcast)

Are you curious about the actual recipe for murder?
Sally Andrew shared hers at the launch of Recipes for Love and Murder: A Tannie Maria Mystery. Here it is, along with advice to not try it at home – rather read the book to see what Tannie Maria did with it!
RECIPE FOR MURDER
Ingredients
1 stocky man who abuses his wife
1 small tender wife
1 medium-sized tough woman
in love with the wife
1 double-barelled shotgun
1 small Karoo town marinated
in secrets
3 bottles of Klipdrift brandy
3 little ducks
1 bottle of pomegranate juice
1 handful of chilli peppers
1 mild gardener
1 fire poker
1 red-hot New Yorker
7 Seventh-day Adventists
(prepared for The End of the World)
1 hard-boiled investigative journalist
1 soft amateur detective
2 cool policemen
2 lambs
1 handful of red herrings and
suspects mixed together
pinch of greed
Method
Throw together all the ingredients into a big pot and simmer slowly, stirring with a wooden spoon for a few years. Add the ducks, chillies and brandy towards the end and turn up the heat

* * * * * * *
A jolly group composed of "rent-a-crowd" and avid fans joined Sally Andrew and Sandra Prinsloo at The Book Lounge on Guy Fawkes Day for the second Cape Town launch of Recipes for Love and Murder. The book was first launched in Kalk Bay, also with this dynamic duo on stage.
The event was short and sweet, with amicable banter between the author, actor and loving crowd. Here are some highlights from the discussion:

Andrew on finding the appropriate attire for book launches:
I've been living out in the Karoo for some years now, so I am a bit out of date with the latest fashion and styles and stuff, but after the last launch I went to the library in Ladismith and I looked through magazines and there between the Farmer's Weekly and the jagtydskrifte I found some women's magazines and they explained to me the importance of accessories [said pointing to her oven mits and red veldskoene]
Prinsloo on recording the audiobook:
I loved doing the audiobook. It was gruelling, there were long sessions in the studio, but I got so involved and I fell completely in love with Tannie Maria. I think I sort of felt that I had become her. The only problem was there was all this talk about Tannie Maria who is always dreaming up recipes to help people and I got so incredibly hungry in the studio. My stomach kept rumbling and the poor sound engineer was desperate in the end.
Andrew on the inspiration for her first novel:
Let's just say I invented Tannie Maria to keep me grounded and to keep me laughing and to teach me how to love – not cook! I also really love the old-style cosy genre of Agatha Christie type of scenes, Dick Francis, Earl Stanley Gardner … so this definitely shaped the genre that I chose. And I was influence by the slow-moving, feel-good writers: Alexander McCall Smith, Herman Charles Bosman. And I do just love to play with words to try and evoke beauty and open-hearted emotions with the right combination of syllables.
Andrew on her intention with this book:
To be honest, when I examine my motives for this book, I do have some intentions of how I hope to affect readers. I am not sure if I would define them as political, emotional of spiritual intentions, but they are there between the lines. I feel that if intentions are overstated then they can be less effective. I'd rather they are evoked from the reader, as Peter van Straaten said opening an art exhibition recently: it's not for the artist to tell the viewer what to think or feel about the art, the viewer, or in this case the reader, must discover for themselves what the writing means to them.
Listen to a recording of the event for more anecdotes and some classic Andrew silliness:
* * * * * * *

For a taste of this immensely popular debut novel – of which rights have already been sold to 17 countries and translation contracts settled for 12 – watch this video of Andrew reading from her book: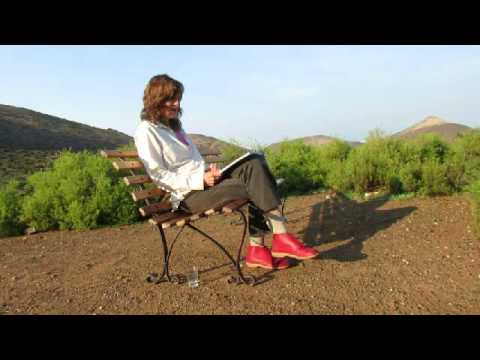 Also read:
Book details