Mike Nicol's Black Heart Launch at Kalk Bay Books Goes Swimmingly
Guests at the launch of Mike Nicol's third and final book in his Revenge Trilogy, Black Heart, were in for a treat at Kalk Bay Books last Friday night. No shortage of Leopard's Leap wines flowed to hearten their enjoyment of the sparkling dialogue between the author and fellow crime-writer, zombie afficionado and horror scribe, Sarah Lotz. This inimitable duo have a history of keeping each other on their toes.
The evening kicked off with a video trailer for the book put together by Sam Wilson and Sarah Lotz. Nicol praised the spectacular job they'd done and said that he liked it so much that he'd watched it at least 33 times a day. This had nothing to do, he reassured the audience, with his wishing to up the hit rate on YouTube. Watch: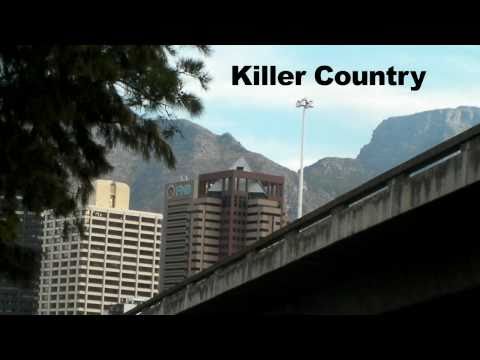 Lotz said the evening was partly a celebration, but also represented a lamentation for the end of the trilogy, which began with Nicol's previous novels, Killer Country and Payback. Nicol reflected that he'd been with the characters who populate the book for a decade, which was "quite a long time to be with anybody!" Lotz quoted him talking about the challenges faced by crime writers in other countries: "Sometimes I wonder what it would be like to be a Swedish crime writer where reality isn't such a harsh competitor."
Offering a recent example, Nicol spoke of sitting alone at home quietly writing a death scene where one character had his gun cocked, about to do a dastardly deed, when he heard a noise. It sounded as if his wife had come home early, having bought a fridge, which she was manhandling out the car and up the steps all by herself.
"I thought, I'm a man, so I'd better go out and help her. Soon enough I realised there was no Jill and no fridge. But the noise was coming from front door. Looking through the glass pane I saw two guys who clearly didn't want to be invited in. Not liking the shape of our door, they were busy reshaping it with a crowbar."
Pondering the challenges, Nicol said, "When we concoct a scene like that we think about the colour of clothing, choosing drab garments, so that if the criminal is seen, he'll be forgotten. These guys didn't have Richard Nixon masks. They wore no balaclavas. One guy has a red t-shirt and striking blue jeans. That's the kind of detail that sticks in the onlooker's mind. Why didn't they at least knock on the door to see if there was anyone home?"
When questioned about the series' main character, "Mace", and his most enduring characteristic, the audience anticipated it would be manliness of some description. Indeed, like the author, who takes a regular dip in the waters of False Bay, Mace swims in that supremely uncool garment, the famously-named "budgie smuggler" or Speedo.
Sarah Lotz awarded the author a trophy of a framed item of swimwear, with instructions to break glass in case of emergency!
Facebook gallery
Book details